I arrived in Guatemala yesterday and the past 30 hours have been incredible.  It's funny because out of all the countries that I ventured to on the Race, Guatemala wouldn't have been the one that I thought I would return to first.  God wants me here.  I'm not sure why yet, but I know He has plans that are bigger than mine.  And that's really scary and comforting at the same time.
For those of you that don't know, I'm in Guatemala to lead a short term trip through Encounter at Adventures in Missions.  My friend Alexandra was chaperoning a team from the high school where she teaches and she called to ask if I could lead the trip.  I went upstairs and asked the powers that be and they agreed.  I'm co-leading the team with a veteran leader named Gary.  Gary is a very wise and spirit-led guy who actually lived in Guatemala for quite some time as a missionary.  I am extremely blessed to be able to shadow his leadership for the next seven or eight days.
Adventures in Missions has two bases here in Guatemala – one in Antigua and one at Lake Atitlan.  I arrived in Guatemala one day before Gary and Angela (another Encounter leader) and was privileged to be able to stay at the base in Antigua.  This base is super awesome for two reasons.  First, two of my friends live here, Noe & Kristin Rene.  Noe was the squad coordinator for my World Race Squad at the beginning – he rocked the logistics.  Kristin Rene was my Alumni Squad Leader for the first five months of my Race.  I've been lucky enough to see both of them since I returned last July, but being with them at the base is different.  That leads me in to point number two – the people at this base are people who are on fire and searching for God and pursuing his voice not only daily, but all the time.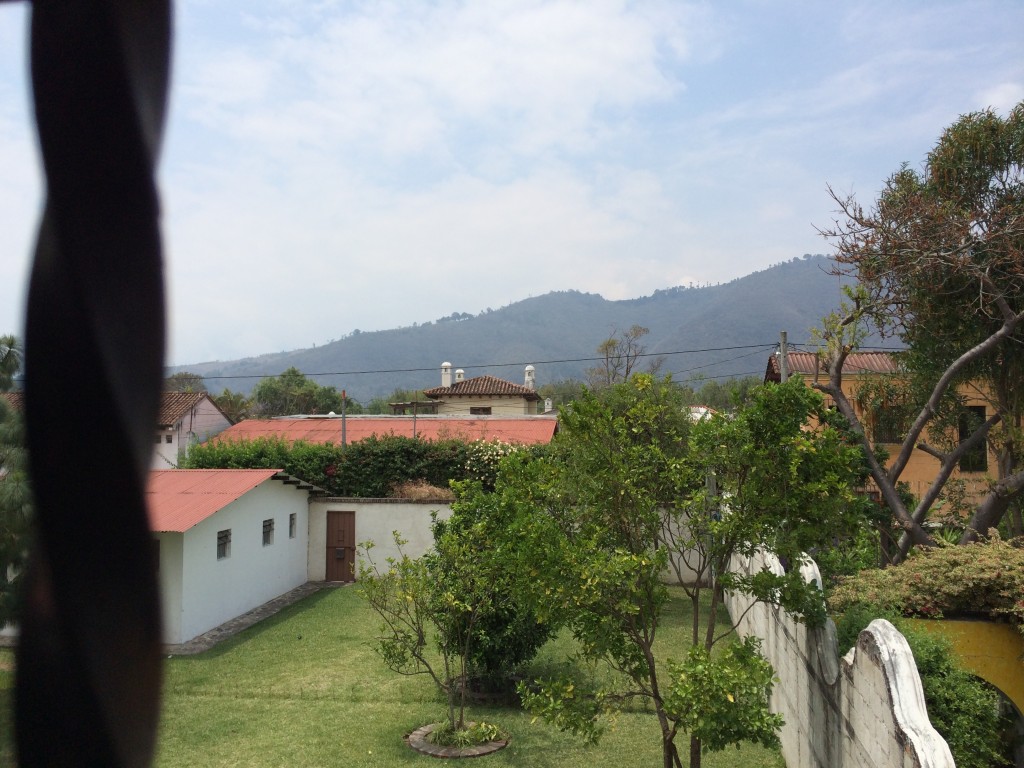 (view from the guest room at the Adventures Antigua Base)
It was extremely encouraging to be welcomed in to the community at this base.  Noe is super intentional and wanted to know everything that's happened in my life since the last time we had an in-depth conversation.  Kristin Rene is loving and kind and prepared so well for me so well as shown by the hand drawn welcome sign placed on my bed.  This doesn't even begin to explain the community and fellowship at this place.  There's about 10 other people that live here and all of them are just as wonderful.
This past Saturday, two of my squadmates got married.  Johnny Eastman and the former Christin Lyle tied the knot.  It was huge bummer for me that I wasn't able to attend their wedding due to prior engagements in Colorado, but the Lord came through!  They planned their honeymoon for Guatemala!  The same time I would be here!  I was super stoked.  They came over for dinner last night and it was a sweet reunion.  Their lifelong bond in marriage is evidently deeply rooted in Christ because they are overflowing with JOY.  They had a rough time getting to Guatemala (I'm sure Christin will write a blog about it soon) but they saw the best in the situation and couldn't have been happier to have just spent the time with one another.
As Kristin Rene said it, "If you can't make it to the wedding, why not join them on the honeymoon".  Congratulations Mr & Mrs Eastman!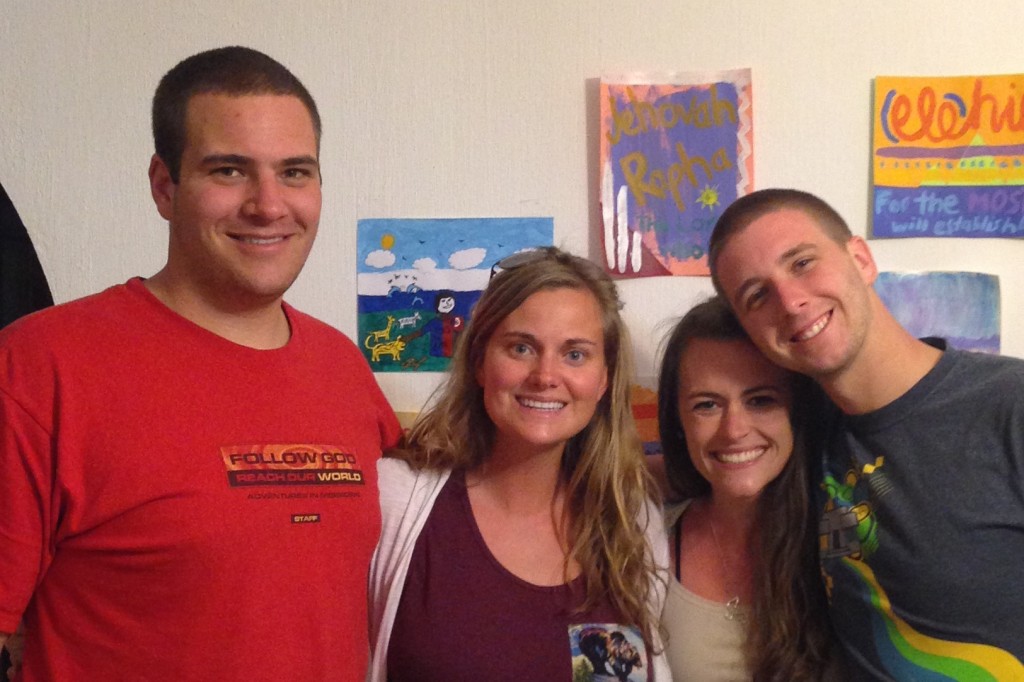 (Me, Kristin Rene, Christin & Johnny)
This morning I woke up and ate some cereal, sat at the table and realized a meeting was about to start.  I wasn't sure if I was supposed to be there or not, so I just sat and ate my cereal.  Noe began the meeting by saying that God was calling the base in to new things.  He said the first thing that needed to change was that we were all sitting around the table where they always have meetings.  The Lord was calling us to worship.  Kristin Rene heard that we should sing "We Are Hungry".  We did.  And it became so much more.  As the song ended, one of the young ladies, Michelle, began singing prophetically.  It was wonderful and beautiful.  You could tell her words were coming straight from the Spirit.  She sang for about 10 or 15 minutes and Noe and the boys continued to play their instruments long enough for it to all set in.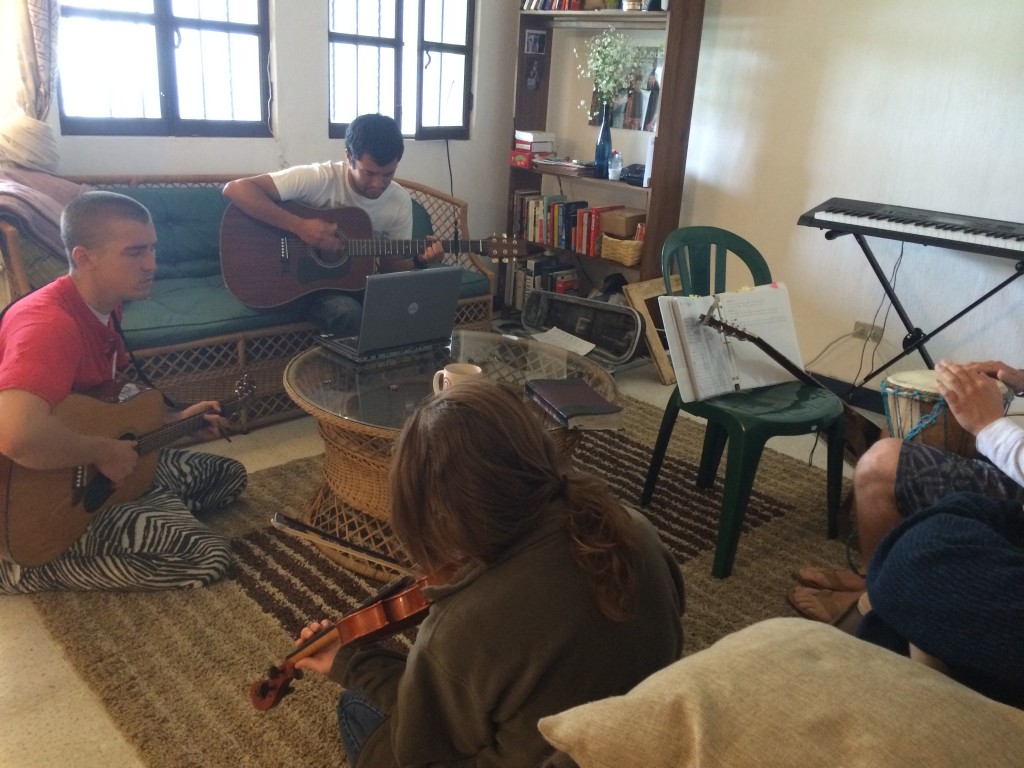 I woke up this morning and read Ephesians.  Well most of it.  I got stuck on these two silly verses in there.  Ephesians 5:1-2 states, "Imitate God, therefore, in everything you do, because you are his dear children. Live a life filled with love, following the example of Christ. He loved us and offered himself as a sacrifice for us…"
I think that may just be the hardest thing anyone ever said in the Bible.  Way to go Paul.  This whole thing just got way more difficult.
I was talking with Noe and Kristin Rene about this (because they both asked me what the Lord said to me this morning, way to be intentional you two!) and God gave Noe Romans 12:9 for me.  Paul says, "Don't just pretend to love others. Really love them. Hate what is wrong. Hold tightly to what is good."
It was a good word and exactly what I needed to hear.
Since World Race Training Camp in July of 2012, God has been in pursuit of my heart in at least one specific way.  He has constantly been challenging my view of love.  He has constantly been introducing me to people that model Christ's love in so many ways.  He's been showing me that I pretend to love others.
I'm selfish.  Most of the time I'm not super interested in what's been happening in people's lives.  Most of the time I don't really care where you came from or where you're going.  I think I can do everything on my own and so I don't need you.
But in reality, that's evil talking.  I am called to love unconditionally as Jesus did.  I am called to see people through the lenses that Jesus sees them through – to see them as pure and holy, unadulterated and sinless.  Over the past 18-24 months, I have made a conscious effort to actually love people.  Not just to pretend to love them but to really love them.  I'm still working on the 18-inch journey and sometimes my flesh creeps in and I have to remind myself that I do care and that I do love people because Jesus does.
So here I am only 30 hours in to the trip that I wasn't even expecting to be on, and God is already affirming what He's been doing and what He will continue to do in my heart.  See what I mean about God knowing what's best?  It's pretty stinking cool.
I head off to the Lake tomorrow with Gary and Angela to set up some ministry and lodging stuff.  Then on Thursday, we'll drop Angela back off in Antigua and pick up the team from the airport and head back to the Lake for a week filled with God's plans and wishes.
Please be praying that everything goes smoothly with transportation and ministry.  Please pray that God uses this time to mend our hearts and our plans and our agenda to match His.  Please be praying for a release of expectations and worldly desires so that we can really use the time He's given us here in Guatemala to glorify His name and to bring Kingdom to Earth.