I recently had my roommate, Ben, give me a mohawk. My coworker, Jordan, asked me to get one with him. It's been a long time since I've had a mohawk. Some of you may remember that I had them all the time. This time was different.
I experienced something new this time around. Something that I didn't really expect. The day after I got my new haircut, I traveled to Atlanta to go to San Francisco for a weekend of rest and relaxation. When I arrived at Hartsfield-Jackson airport in Atlanta, I started noticing that people we're looking at me. It took me a minute to realize why.
Then it hit me! It was because I had a mohawk. When I went to check in, I went to the "A-List" line for Southwest. There was no one checking credentials for the premier passengers. Immediately, one of the attendants came over to me and told me I was in the wrong line. It was an odd encounter, because usually they don't check and they don't ever come and tell me I'm in the wrong line. It felt good to pull out the A-List card from my wallet and kind of snobbishly tell her, "No. Actually, I'm not!".
As I continued through security and then on to my gate, I felt people staring at me. I could see the wheels turning in my head. They were judging me. At first it caught me off guard. Maybe people in Denver are less judgmental. Or maybe they are used to mohawks. Or maybe the people I interacted with in Denver were used to my mohawk. Whatever the reason, I was frustrated with Atlanta.
When I got on the plane, I was relieved to sit next to someone that didn't seem to mind that she now had a row-mate with a mohawk. I was ready to land in San Francisco where I knew there would be no judgement.
As I sat on the stinking long flight from Atlanta to San Francisco, I had a thought to pray about what the lesson was in the mohawk-judging-ed-getting-frustratedness that had just taken place. I asked God what he was trying to show me to teach me – maybe the lesson was simply that I am too old for a mohawk. Then he asked me what I think about people who have mohawks. At first, I told myself that I didn't think anything differently of them. Then I dug for the truth.
The truth is that when I see someone that has a mohawk, or another funny haircut, that I definitely have judgements towards them. They may not necessarily be bad, but the ideas running through my head are definitely preconceived and baseless. The same rings true for people I see with a lot of tattoos or piercings.
While in San Francisco, I was able to meet up with my good friend Missy. See if you can keep up. Missy is the daughter of my mom's best friend, Cathy. We've known each other for quite some time now. Missy is one of those people that I probably had some inaccurate, preconceived ideas about when I first saw her. She is tattooed and pierced and may have even had a mohawk when I met here. 3 for 3. But as I got to know Missy, as I actually got to talk to her and listen to her stories, I discovered that Missy is amazing.
She's lived a lot of life, and while she'll tell you herself that she regrets some of it, it's shaped her in to an amazing woman. She has a solid heart. She's one of the most caring and loving people that I know. She's taken (and still taking) measurable steps to improve her life. She has recently become a mom and is raising a beautiful, 4-year-old daughter named Iris. Iris is one lucky kid.
Missy is one of my favorite people to be around because she is real. I felt judged and maybe even disliked or hated in the Atlanta Airport for such a brief amount of time. Missy has probably felt that way at times for a good part of the last 10 years of her life. She doesn't let it get to her. She knows who she is. Her identity is solid.
My prayer shifted on the way home after seeing Missy. I asked the Lord to change my perspective. Now that I have a little taste of what it's like to feel judged because of the way that I look, I asked the Lord to protect my mind and guide my heart so that I don't think that way about others. I asked the Lord to reinforce my identity that is found through Him.
I still have my mohawk (I don't know how much longer it will last, though). I'm thinking of it now as a way for others to check themselves in the judgement area when they see me.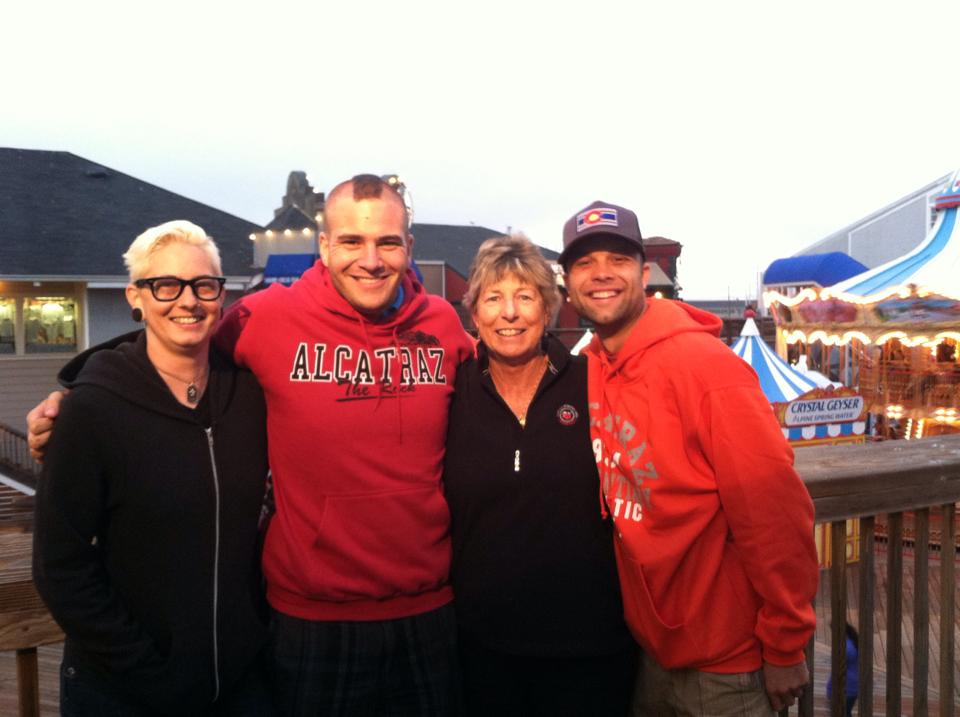 Missy, Me, Cathy, and Tommy on Pier 39