A lot has happened since the last time that I wrote and y'all are due for an update!  The most exciting news that I will share with you tonight is that I recently completed my Private Pilot ground school, took my written test, and passed!  With that, I'll start flying later this week!  I can't wait.  I feel like after being in Georgia almost a year, the time has finally come for me to get the ball rolling on this thing.
Lots of other stuff has been going on too.  I got my commercial driver's license and have been driving the school buses for Adventures all over Georgia.  I like driving big vehicles so it's fun – and I get to hang out with World Racers and Passporters which is always fun too!  I also moved in to a new house.  I have two great roommates, Pat & Bryan.  I went on the World Race with Bryan so we go way back and Pat and I just met a few months ago, but I think we're becoming pretty good friends.  He plays guitar and loves Jesus – so I'm hoping he can teach me a few things (in both those areas)!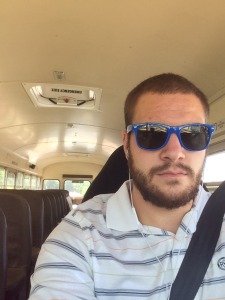 Driving the bus somewhere to pick up some missionaries!
Life has been good and super crazy!  I got to go home to Colorado over Labor Day weekend and was lucky enough to be able to stay through to the following Sunday.  I got to hike two mountains and spend a lot of time with friends and family.  It was a great opportunity for rest and relaxation, as well as to connect with some people from home.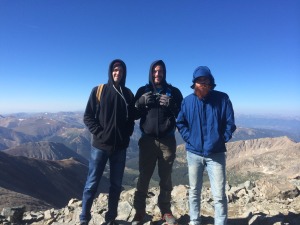 Mountain #1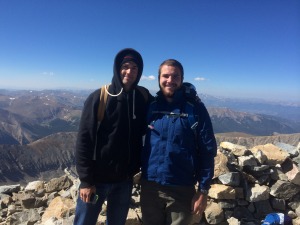 Mountain #2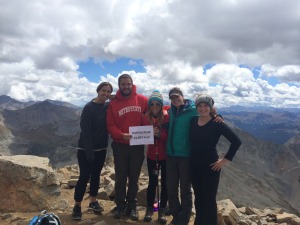 Mountain #3
I love Colorado.  I love the scenery, the lack of humidity, the people, the places – I love it all.  It's sometimes hard coming back to Georgia, but once I get back here and back in to the groove, I like it.  The community here is great.  There's always something to do and there's always someone around willing to teach you something.
I've been working at our new COO's house.  Bob asked me if I'd help him finish a room in his basement.  I thought it would be a great way to get to know him and I knew we'd probably have some fun while we were at it.  We have had some fun (nailing into concrete with a Ramset – look it up!) and we've had good conversation too.  And he feeds me.  Well his wife, Julie, does.  And she's a good cook.  And they have a wonderful family that I've had the privilege of getting to know a little better over the past few weeks.
Bob & Julie run a tight ship.  They have six beautiful children and they lead them well.  I feel welcomed and as if I'm a part of their family whenever we sit down at the dinner table.  It's been really great and I'm super thankful for their hospitality because it makes me feel like I'm at home with my own family.
That's all for now!  More coming after my first flight! 🙂  Love you all!