I was privileged to be able to go to the Dominican Republic for the past 10 days with a group of high school students from Highlands Ranch, Colorado. The trip was an amazing experience.
We were originally supposed to go to Brazil – and I was originally supposed to be the Project Leader for the trip that comes from Adventures in Missions.  Of course, things changed and neither one of those things ended up happening.  Luckily, two girls that went to Guatemala with us last year, Kirsten and Emily, asked if I would go as a chaperone for the group.  They even volunteered to fundraise for my portion because they knew I was fundraising for flight school!  How awesome are they?
Anyway, my friend Caitlin that works at the Adventures Office in Gainesville came as the Project Leader.  She asked if I would come early and help set up the ministry with her.  I obliged.  I landed at the airport in Santo Domingo, DR at about 7pm.  The airline lost my bag.  After filing a lost bag report, I finally made it out and found Caitlin and our host, Pastor Juan, and his family.  We left the airport and headed to grab some sandwiches on the way out of town.
Pastor Juan and his family welcomed Caitlin and me in to their home and fed us, and transported us around, and rented apartments for the team, and served and loved us so well in those days preparing for the team.  Pastor Juan has a beautiful wife, named Alba, and two gorgeous children, Kamil and Adrian.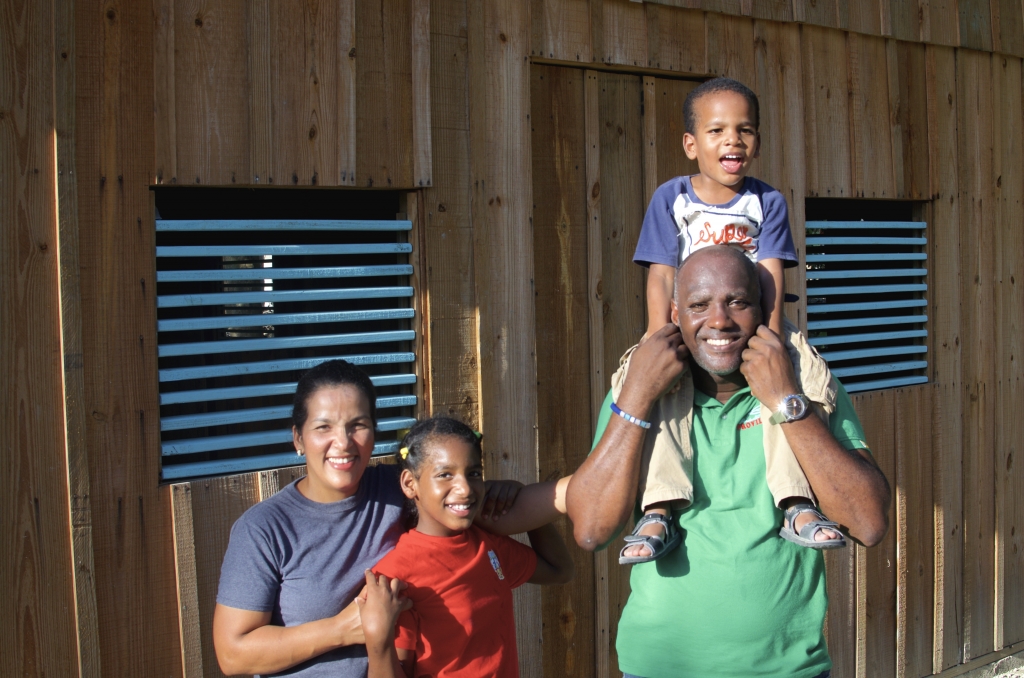 Alba, Kamil, Adrian, and Pastor Juan
 After a couple days of prep, Caitlin, Pastor Juan, and myself went back to the airport and picked up the team.  We packed both vans like sardines and headed to the apartments to settle in before church that night.
We had amazing food on this trip.  Juan asked a few ladies from the church to cook for us and boy did they ever.  Lots of fruit and chicken and rice and beans and deliciousness.
Anyway – throughout the week, we worked on preparing the dirt floor inside a newly constructed school building for concrete.  Then we mixed a lot of concrete, and poured the floor inside the school.  It was a lot of hard, and hot, work.  The kids rocked it.  They didn't ever complain or get lazy.  They worked their tails off and we had to encourage them to take a lot of breaks because they weren't even stopping enough to drink water!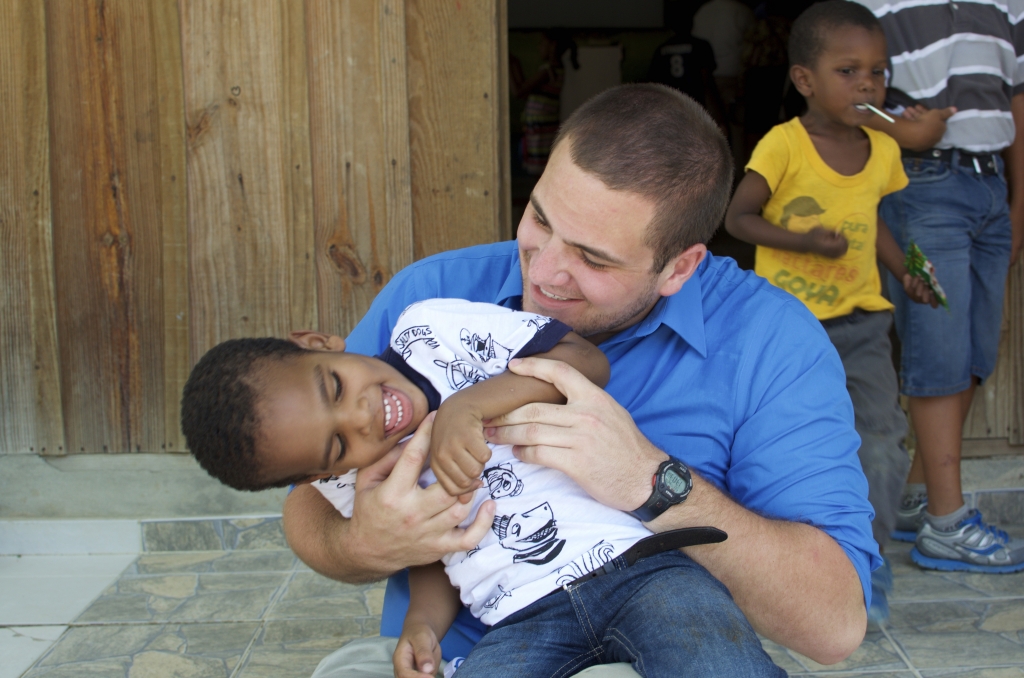 Adrian and me!
Each night, we had a little ministry that we would do.  The second night we traveled to a little town outside of where we staying where the church is starting a new church plant.  The kids played baseball with the children, created balloon animals and swords, and chatted with the adults for a while.  Then we had a quick children's service where the team played some songs.  The team then led an adults church service.  They gave testimonies and sang songs and even delivered a message!
After a long and hard three days of working with concrete, the last day of ministry the team cleaned the church, painted, played with the local children and had a pretty fun and "easy" day.
Then we went to the beach on Saturday.  It's called Boca Chica (which is fun to say, isn't it?) and it was absolutely gorgeous.  It's super shallow and there's no waves.  It's a great beach to spend the day at.  The kids drank piña coladas (sin alcohol, of course), rode on a banana boat, and basked in the sun.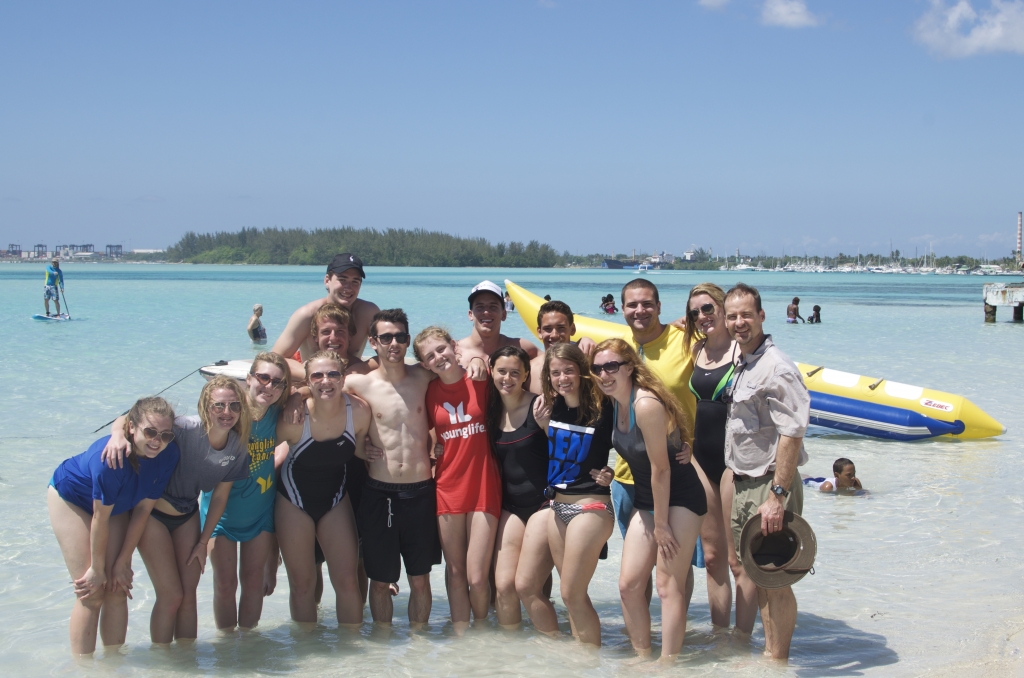 The team at Boca Chica
We came back and had another mini church service/ministry night where more the team shared their testimonies and a message.  We woke up on Sunday sad that it would be our last day.  We went to church – where we even more of the team were able to share their testimonies and a message – ate lunch, and went home to pack and clean.
This was an amazing trip!  I had the privilege and honor of serving alongside with three other great leaders – Richard, Dani, and Caitlin – and 12 incredible high schoolers.  These kids rocked.  They worked hard, they never complained about the long days (or anything else for that matter), they built relationships.  These guys left an impact on that community that they may never even know the full extent of.  It was a blessing to watch.
Thank you for supporting me and this team.  Thank you for your prayers and for your donations.  We couldn't have done it without you.