The last time I wrote, I had recently failed my multi-engine instructor rating. To be honest, it threw me off. Way off. I was a wreck. All sorts of doubt creeped in and I wondered why I was learning how to fly; if God really wanted me to fly, or if I was being selfish. I didn't want to do anything, didn't want to see anyone, and definitely didn't want to fly.
This really made me realize that I missed community immensely. And I realized that I had been deeply missing community since I moved home from Georgia in March of 2015. On top of that, flight school left me empty and lonely. It was four long months of hanging out with people that didn't necessarily have the same values as me – especially in Las Vegas.
In rather perfect timing, my friend Ryan said he had a position open at the church that he worked for. I'd be working for him and helping project manage and produce the creative content that they produce for the church. After several conversations with Jesus and others, I decided that maybe God had opened this door to allow for some community as well as paying off some flight school loans. I struggled with this at first because I had gotten a word from the Lord in South Africa about God providing for my flight school. After talking with some friends, they allowed me to see that "God providing for me" didn't necessarily mean friends and family giving me money. God could provide for me by providing me with a job.
I started working at Cherry Hills on January 4th. The HR person advised me that this is the fourth time that I've worked there (4th time's a charm, right?). It's been great so far. I get to work with Ryan, whom I've known for about 13 years, again. I also get to work with Topher, whom I've known pretty much since he was born. I'd say we make a pretty good little team. It's been an interesting transition because I've project managed my fair share, but never in the creative/film production role. It's different learning the ins-and-outs of the film industry.
My community meter is slowly rising. However, it's no where close to what I call the "overwhelmed level" that I often faced in Georgia. It's funny how our perspectives change when we experience opposite extremes. The grass is always greener, eh?
I used to do a lot of film production and editing back in high school. Since then, things have changed. A lot. I'm slowly starting to pick up the names and functions of these high tech pieces of equipment, but definitely still have a lot to learn. Luckily, Ryan and Topher are patient with me.
The rest of the people on the production team are wonderful as well. I've known some of them for a long time, but many of them I met for the first time when I started working there.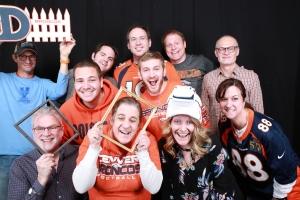 These are the crazies that I am privileged to work with!
---
In other news, since I have Fridays off, I've been helping out at a airplane maintenance shop at Front Range Airport called Front Range Executive Aviation.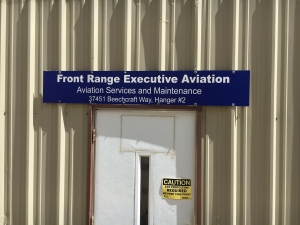 The boss, Bill, has been super gracious towards me over the past few months.  The original plan was that once I finished flight school, I would apprentice under Bill full-time.  Since that can't happen now, he's been more than accommodating in allowing me to come and help out on Fridays.
W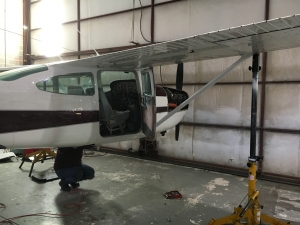 e've been doing some pretty cool stuff.  Recently, I've gotten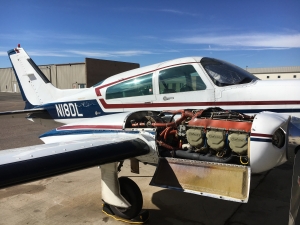 to work on a Cessna 310 helping to perform the required annual inspection.  Last week I helped with an annual on a Cessna 182RG.  The head mechanic, Dave, taught me how to remove the wheels and brakes, remove/clean/repack wheel bearings, test magnetos, install spark plugs, and test the retractable gear (that might have been a lot of jargon for some of you!).
Bill has also encouraged me to start studying for my multi-engine instructor rating again.  He's offered to help me out when he can and also let me use his airplane for the check ride.  Is that a great idea or what?  So I've recently started studying and hopefully I'll be check ride ready within the next few weeks.
---
That's all for now.  I really appreciate each and every one of you that encourage and love me.  Thank you for taking the time to read about my life and my journey!